Today we want to present you an exclusive interview with one of the youngest and ambitious djanes in the world
RIVKAH
DJANETOP: So let's talk about the beginning - when and how your DJ career was started?  
RIVKAH: First of all, thank you so much DJane Top for the interview, and congratulations for the DJane Top website and your work on voting, bringing all these wonderful DJanes to the people's attention! We women are as good as the guys! Well, I dreamed of being a DJ since I was born, in fact, I almost was born during the Love Parade Festival in Germany, so it couldn't be different. My mother was 6 months pregnant, having a normal life, and went to the festival in Germany (My parents used to live in Norway). During the festival, she starts bleeding and she came back to Norway the day after, and the doctors kept her in the hospital until I was born. 
My career started when I was 9 years old, after training a lot with DJ Sony, a friend of my family, I was performing already to 20k people every week in a 2 months Brazilian festival called "Na Praia". 
DJANETOP: Try to remember your first gig. When and where did it take place? Did you nervous a lot before playing your first DJ set ever?
RIVKAH: Well, my first GIG completely alone I remember very clear (it's only 3 years ago LOL), it was to (about) 5k people when DJ Sony and DJ Matheus Hartman gave me the chance to perform in this festival I already mentioned… "Na Praia". It's an all-weekend Festival during 2 months every weekend, opened all day, with different stages. In the same year, I performed in the main stage to 20k people in the festival closing day. But never got nervous… It was happening so automatically that I never got nervous. 
DJANETOP: You performed to 1 million people for 5 hours in an electric truck in Carnival, Salvador; How it was? Tell us about this performance more
RIVKAH: Hahahahaha! I was just talking about that! It really touched me a lot. That's insane! The sound truck goes 4,5km, part of the crowd follows, part of the crowd stands still to see the other trucks that come behind… Each one plays a different kind of music (electronic music, Brazilian music, Samba etc) and they keep a distance between them. The energy we feel at the top of the truck and the affection coming from the crowd is amazing.
DJANETOP: You produce music. Who helps you with it? When is your next release?
RIVKAH: Yes I am the youngest music producer of the world. My first track was released when I was 10 and I have an album ready to release… After becoming a professional DJ I wanted to produce my own tracks and be able to make remixes/bootlegs, but none of the courses wanted to accept me because I was a child, so I started with tutorials and online classes, then the courses started accepting me… Today I have 5 completed courses and want to make more!
DJANETOP: Can you name us TOP 5 of your favorite places in the world where you have been and where you want to go?
RIVKAH: I've been in many places around the world because I was born in Norway and it was easy to travel anywhere, so since I remember, we used to go to Amsterdam (we had a direct flight from my City in Norway to Amsterdam) and maybe that's why I love Amsterdam, I love Sweden too (very close to Norway), and both are places where DJs that influenced me were born (Tiesto, Swedish House Mafia, Armin Van Buren, Avicii). I also have good memories from New Zealand, Scotland and Israel. And I want to perform in Asia.
DJANETOP: As we know you spoke last month to 250 CEOs of the biggest Brazilian companies and on 5/10 made a speech at the largest Innovation conference of Latin America. Which topics did you outline at that conference?
RIVKAH: My speech is about my life, about my path, since my dream of being DJ to my future, about all the difficulties I've been passing through, about prejudice, being a 12-years-old professional DJ AND A GIRL! And about following our dreams no matter what! People need to have in mind that sometimes a few people or even no one will believe you and your work, but you just need to believe in yourself and work hard to go after your dream.
DJANETOP: You were born in Norway. Why did your family move to Brazil? Share with us your experience about DJing in Brazil, about clubs, festivals, and another DJs. Maybe you have a lot of friends among famous DJs?
RIVKAH: Yes, I am French born in Norway, and lived there until my 6 years old. My mother was transferred to Brazil to open a company's branch office here, she was General Manager of a Norwegian Company and we moved not because she was Brazilian, but because they needed a new office. So here we are. She doesn't work for them anymore, she takes care of my career. Me and my mother, We are very close.
Brazil is a very big market with thousands and thousands of parties, festivals and events. People love electronic music here and I am very well related with clubs and festival owners. I have all legal papers to work as a professional DJ and I am already known in Brazil. People that still didn't see me performing are always very curious in the parties.
DJANETOP: Tell us about your favorite DJs worldwide, someone of your friends or someone who inspires you?
RIVKAH: I have many inspirations worldwide but I have 3 references: Tiesto, Armin Van Buren and Alok. I was born and grew up listening to Tiesto, I simply love his work, his charisma and his energy. Soon After, when I was 4 years old and my mother gave me a cell phone, my first online purchase was the album "State of Trance" Armin and I became totally crazy about the track #11 and I repeated, repeated and repeated the track all the time everywhere. I moved to Brazil when I was 6 and then I knew Alok and his story. He reforced all my dreams, all my wishes! The first time I went to his performance, I went to the backstage to meet him for the very first time, I remember I was SO nervous and when he came to talk to me I couldn't stop crying! I couldn't say a word! My mother started telling him that I was taking DJ classes, and that he inspired me, and a lot of things I can't remember, I only cried! So he invited me to the stage to be there during his performance. I don't know if he has an idea of the dimension of this day in my life! After that, I already met him so many times that I can't tell you. I know his family, mother, father, sister, brother, and I love them all. His wife is beautiful and sweet. Alok is a complete artist! An amazing human being. And he was responsible for opening the international doors for all Brazilian DJs.
I also have friendship with a lot of DJs, some of them are very famous. I love to observe them working, I always learn a lot.
DJANETOP: Tell us how it's like at such a young age to fight for your place with an adult female and male DJs?
RIVKAH: Oh, This is very complicated. Many DJs in Brazil help each other, many not! There are big DJs or big agencies with veto power, but the market knows who they are, the market knows what they do, and even if they can sabotage someone, they will have only a few true friends, and in the end, people will talk bad about them. Maybe they only care about power and money and it doesn't matter if people don't really like them, well, for me matters, I would never do so.
DJANETOP: There are a lot of drunk people and a lot of smokers in all clubs, how do you feel about this? What do your parents think about it?
RIVKAH: My mother always explained to me about alcohol and drugs, I really can't understand why someone needs to be high to have fun, but it's their way to have fun.
Before, in festivals we never were in the middle of the crowd. Now, we are always in the backstage even if I am not performing. In the case of night clubs, I've been never in a night club as an audience, I perform in many clubs but I leave after my performance. I don't have any contact with people, only backstage - stage - and leave.
DJANETOP: You do a great job and we are really curious about how can you cope with such a job taking into consideration your young age? Are there any difficulties? Maybe there are some clubs that do not invite you to play only because of age restrictions?
RIVKAH: Before, it was veeeeery difficult. Nobody would let a kid play! Imagine! A kid!
The first festival I performed was very important in my life. "Na Praia" (that means:"On the Beach") is a huge Festival and they believed me right away! They never had doubts. I was SO little that I needed a case to stand on it, and even so, they let me perform every weekend and in the last day of the festival, I performed in the main stage. From this day, every year I'm in the Line Up of the main stage, with fireworks for me and everything. It's beautiful! And these performances were opening doors to other events, who had any doubts could see that I was a kid with an adult audience and I knew what I was doing! It was for real! So the events started to request me.
DJANETOP: Share please 5 facts about yourself that no one knows.
RIVKAH: I am perfectionist, I have a lot of songs that nobody has heard yet, I have 19 rescued dogs, I get very high grades at school (I love animals), I am orange belt in jiu-jitsu.
DJANETOP: What plans do you have for the nearest future?
RIVKAH: Perform worldwide.
DJANETOP: Give your top clues for female DJs that are at the starting point of their career.
RIVKAH: Be very dedicated and focused, study hard, train hard, always observe all the details. Make contact with parties and festivals, ask for 20 minutes, maybe you have a chance to show your work!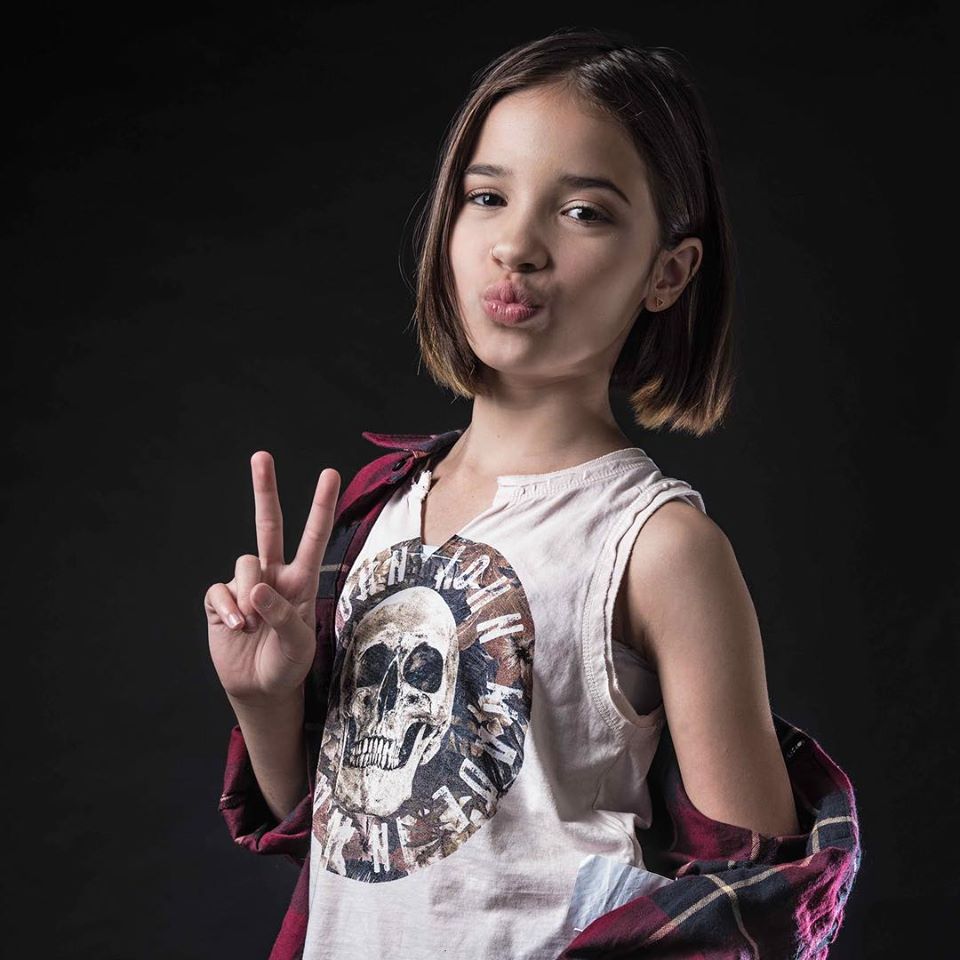 Thanks again for the interview for DjaneTop.com. We wish you a lot of parties and can't wait for new releases from you!