We want to present to you an exclusive interview with a bright star from Taiwan
RAYRAY
DJANETOP: So let's talk about the beginning - when and how your DJ career was started?  
RAYRAY: At a young age, I was into Hip-Hop, R&B, Funk, and Soul music, and I started learning turntablism and the cello. After getting into the Hip-Hop music scene in Taiwan, I was crowned champion of the 2013 Red Bull Thre3style DJ competition. The same year, I presented Taiwan to Toronto in the International DJ Championship. After that, I focused on my own music productions, I produced tracks which have been used in several films. By using the name "Wifi Grapes" as my alter ego, I have been paid more attention on making experimental beats. In 2016, I was selected as the participant of Red Bull Music Academy in Montreal. I was being invited to perform at SXSW, ADE in Amsterdam since 2015, Glastonbury UK Festival in 2016, 2017, and 2019, and the Midem France Music Festival in 2016, many many more. Last year, I dropped my second EP "Alien Invasion" on Barong Family establishing fame as the queen of Bass Music in Asia music industry.
DJANETOP: Try to remember your first gig. When and where did it take place? Did you nervous a lot before playing your first DJ set ever?
RAYRAY: I think it was in Taipei back in 2009. I performed at the club called LUXY, and it was also my first club residency. I was really nervous but also excited at the same time.
DJANETOP: You were selected as a participant of Red Bull Music Academy 2016 among the 70 worldwide artists, tell us about it? What did you feel?
RAYRAY: That was the 2nd time I applied for the Red Bull Music Academy and I was really excited that I got selected. I had 2 weeks of studio sessions and lectures with very important artists in the music industry, such as: 'Black Madonna', 'Kaytryanda' and many more. I learned how to use analog instruments to make music.. at the same time I got to work with all different artists from all genres. It was quite experimental but I learned a lot from it.
DJANETOP: You are celloplayer. Do you use this sound in your tracks? Or you play cello during your performance?
RAYRAY: Yes. I did it one time at my friend's event. I would love to fully combine my cello skill into my live set one day.
DJANETOP: Share with us your experience about DJing in Taiwan, about clubs, festivals and another DJs. Maybe you have a lot of friends among famous DJs?
RAYRAY: I play at clubs in Taiwan, and around the world. Taiwan's music scene is more about EDM right now, but people still can accept different kind of music as long as you introduce it to them. I think mixing some local elements into your set when performing will be a nice idea to connect with the crowds in different countries. For example, I like to use the local raps and make them into bootlegs. Using the native languages to get closer to the crowds, and making your set even more interesting. No matter where I am performing at, I always like to ask around about the music scene and stories. I think traveling around the world, and experiencing different music cultures is the best way to learn something new. I enjoy discovering new music styles and bring them back to Asia and Taiwan, same thing goes to, I can always bring something new to the world when I'm on tour.
DJANETOP: What was the most memorable festival you performed at?
RAYRAY: Belgium Tomorrowland, India Sunburn Festival, and Taipei Looptopia.
DJANETOP: Tell us about your favorite DJs worldwide, someone of your friends or someone who inspires you?
RAYRAY: I started making music because of DJ Shadow & J Dilla.. they inspired me to combine hip hop and modern electronic music together. Noisia are also one of my all time favorite DJs.. whenever they released a mixtape or production I instantly got inspired and non stop listened to them. Skrillex also taught me a lot about music production and changes in the music scene. To be honest I learnt a lot from everybody I look up to.. no matter if I know them or not.
DJANETOP: Share please 5 facts about yourself that no one knows.
RAYRAY: I like french fries. I love whisky. I like cold weather more than hot weather. I'm 157cm tall when I'm not wearing my big ass shoes. My purple hair is real.
DJANETOP: What plans do you have for the nearest future?
RAYRAY: This year I'm going to try and focus on expanding my brand to the US and Europe and I definitely want to make and release more music with the bigger household names. Another big goal of mine is to work on my own production focused show including a liveset from myself etc.DJANETOP: Share please 5 facts about yourself that no one knows.
DJANETOP: Give your top clues for female DJs that are at the starting point of their career.
RAYRAY:
Be yourself.
Keep making music.
Keep practicing.
Keep learning wherever you go.
Be grateful.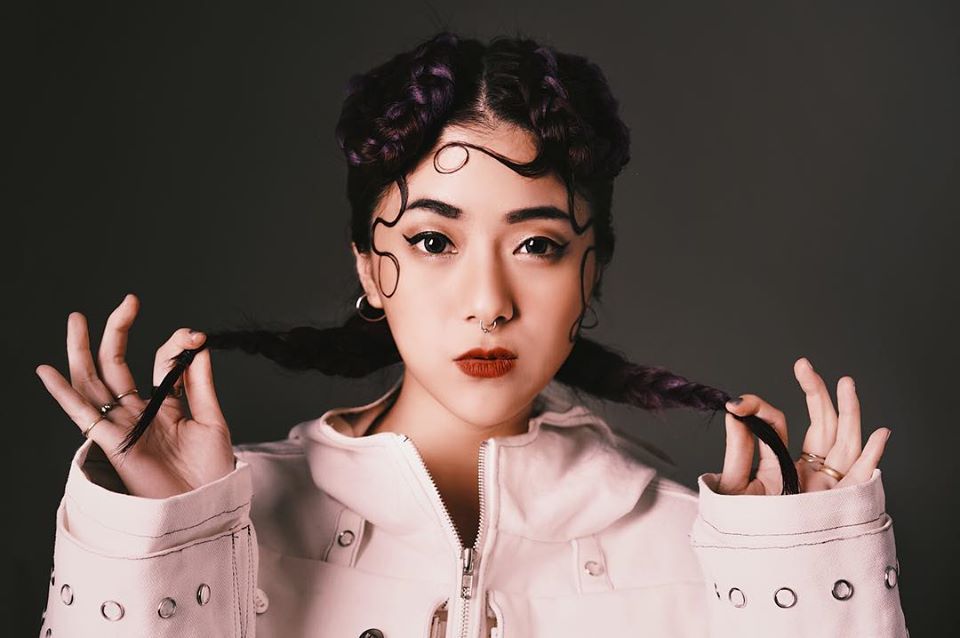 Thanks again for the interview for DjaneTop.com. We wish you a lot of parties and can't wait for new releases from you!